¡La música nos hace mejores!
Más creyentes, más inteligentes, más sanos, más creativos, más sociables y más felices.




Music makes us better!
More believers, smarter, healthier, more creative, more sociable and happier.


MÚSICA EN LA CATEDRAL
S.I. Catedral Metropolitana de Valladolid

2º Concierto - Año 2007 - Concierto Nr. 5


Concierto de Otoño
sábado, 29 de septiembre, a las 20:00 horas


PILAR CABRERA
en la Catedral de Valladolid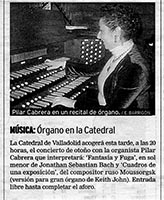 click




* * * Programa * * *


Johann Sebastian Bach
Fantasía y Fuga en sol menor
BWV 542






Estreno para Órgano en Castilla y León
Modest Mussorgsky
"Cuadros de una Exposición"
Transcripción para gran órgano de Keith John
Pilar Cabrera al Órgano Allen de la Catedral


| | | | | |
| --- | --- | --- | --- | --- |
| Fragmento 1 | | Fragmento 2 | | Fragmento 3 |

Escuchar la obra completa de 38 min.




Año 1998 - Estreno para órgano en España
"Cuadros de una Exposición"
Pilar Cabrera en el Auditorio Nacional de Música de Madrid


Reportaje con dos videos inéditos de los ensayos y del concierto.

Opening concert of the VII Organ Cycle at the Madrid National Music Auditorium
making its premiere in Spain from the organ version of Moussorgsky's
"Pictures at an Exhibition" by the British organist Keith John.






Bis / Encore
Johann Sebastian Bach
Badinerie
de la Suite Nr.2 para orquesta y flauta en si menor





El video es un fragmento de otro concierto.
the video is a fragment from another concert.
* * * FINAL del PROGRAMA * * *
enviar un comentario / please send a comment


Música y Arte
"Llanto sobre Cristo muerto"
Museo Diocesano Catedralicio de Valladolid
Obra de ISIDRO de VILLOLDO (siglo XVI) con el ADAGIO de Albinoni




Art and Music
"Crying over dead Christ"
Diocesan Cathedral Museum of Valladolid
ISIDRO de VILLOLDO's work (XVI century) with ADAGIO by Albinoni



volver - return



Página actualizada: - © 2009-2020 Michael Reckling, Valladolid, Spain.